Premium quality mass transfer technology and solution....
Distillation Column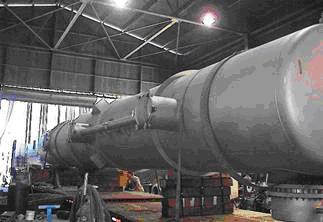 Distillation Column
Distillation System
Fenix®has been designing and manufacturing Columns & Towers complete with all internals and accessories for all types of distillation. Our esteemed clients are kept in touch at each stage of process calculation, validation of data & results, detailed design, engineering drawings and design package.
Efficient and cost-effective solutions are provided for
Azeotropic Distillation
Batch / Continuous Distillation
Extractive Distillation
Laboratory Distillation
Reactive Distillation
Vacuum Distillation
Pressure Swing Distillation
Divided Wall Column Distillation
Chemical, Petrochemical & Pharmaceutical and other process industries are benefited from Fenix distillation systems.
Fenix Advantages
Continual interaction right from enquiry

Basic Engineering

: Process selection, Process flow diagram, Piping & Instrumentation diagram, Specifications of equipment, Operating instruction manual
Process Design & Simulation

Detailed design of key components

: Column, Condenser, Reboiler and other Heat Exchangers, Packings/Trays, Liquid distributors and all other Internals

Studies

: Feasibility study, Simulation study, Energy consumption study

Testing

: Distributor testing, Hydraulic testing.
Design & Simulation Tools used at Fenix
"AspenPlus 7.1" (complete suit) for process simulation
"Designer's Desktop" for mechanical design of equipment
"TZValve" (version 5.0) for tray design and troubleshooting
"PCOL" (version 1.1) for random packing design and hydraulics etc.
Other Services provided by Fenix
: Installation & Commissioning of distillation plants, De-bottlenecking and Revamping of old and inefficient plants and equipments.




FENIX PROCESS TECHNOLGIES P. LTD. All Rights Reserved.