Premium quality mass transfer technology and solution....
Mist Eliminator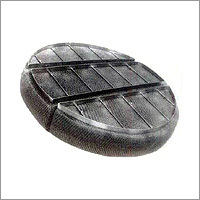 Mist Eliminator
FenixTM Mist Eliminators, made of pack of porous blankets of metallic wire or plastic mesh, can be used whenever there is a need to remove liquid droplets entrained in a vapor flow. Due to very high voidage, the pressure drop is almost negligible. They prevent loss of valuable products and help produce high quality condensate for applications such as vacuum distillation including refinery operations, evaporators, refinery lube towers, absorbers, steam drums, scrubbers etc. Mass-transfer operations involving foaming/frothing liquids need mist eliminators to prevent liquid entrainment in the product. Variables that affect the design of a mist eliminator include vapour velocity, liquid entrainment loading, particle size distribution, gas and liquid viscosity and surface tension, operating temperatures, pressure and material of construction.

For the purpose of preliminary selection, empirical equations are used for the estimation of design gas velocity, pressure drop and separation efficiency.

Chemicals, refineries, pharmaceuticals, petrochemicals, dyes & intermediates, aromatics and other industries find use for FenixTM Mist Eliminators.




FENIX PROCESS TECHNOLGIES P. LTD. All Rights Reserved.