Premium quality mass transfer technology and solution....
Pusher Centrifuge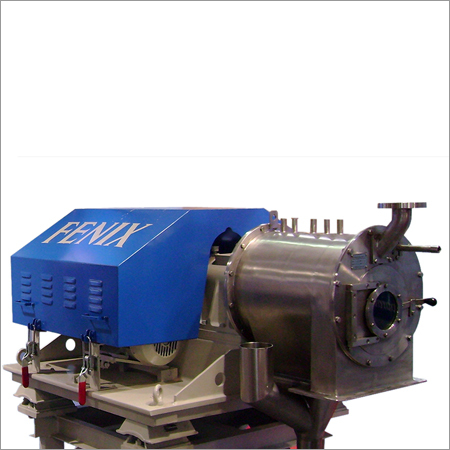 Pusher Centrifuge
Product Code : 18
Brand Name : FXPusher
Pusher Centrifuge
Pusher centrifuge is a continuous filtering device used for solid-liquid separation which finds extensive use in chemical, pharmaceutical, food (common salt) and mineral industries for dewatering relatively large, free-draining crystals and other solids.
Fenix
TM
Pusher Centrifuge has a special design that minimizes moisture (or solvent) and breakage of solid particles in the product. It has an axially mounted cylindrical basket and a filtering screen made of trapezoidal bars. The slurry is fed into the narrower end of the basket and a reciprocating piston pushes the cake formed on the screen forward but the stroke of the piston stops just short of the wider end of the basket. This enables a thick layer of cake to remain at the discharge end which serves as a rim to prevent short-circuiting of the feed slurry. Thus discharged wet cake has minimal liquid content.
Following are the steps in the operation of Pusher Centrifuge
: Solids collect on the screen and feed liquors drain through; The pusher plate rotates with the basket and reciprocates; On the forward stroke, the plate pushes solids along the screen, consolidating the solids into a uniform cake; On the reverse stroke, fresh screen is exposed and more slurry is deposited; Cake dries as it moves along the length of the screen and wash liquor may be applied to remove impurities; Cake is pushed off the discharge end of the screen and directed to the collection chute for downstream processing.
Fenix pusher centrifuge ensures maximum online availability with minimum maintenance and low floor-space requirement in most solid/liquid separation processes.
Features
Process : Continuous
Solids content of feed : >20% by wt
Average particle size : 80 - 2000 μm
Solids throughput : Up to 25,000 kg/hr
Solids recovery : >98%
MOC : Stainless Steel, special materials
Advantages
Simple & Continuous operation
High throughput
High yields
High wash efficiency
Low energy consumption
No spillage
Eliminates manual handling
Low floor space requirement
Maintenance : Simple & low-cost
Limitations
Minimum particle size : 50 μm
Feed requirement : High solid content
Spares
Shaft Baskets
Feed Funnel
Rotating Screens or Sieves
Pusher plate
All major components and spares are available from Fenix on order.




FENIX PROCESS TECHNOLGIES P. LTD. All Rights Reserved.